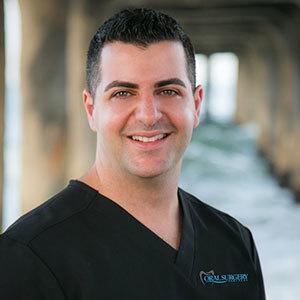 Meet Martin Mardirosian, DDS, MS, MD
Southern California native Martin Mardirosian graduated from the University of California, Los Angeles with a bachelor's degree in Biology. He earned his Master of Science in Oral Biology & Medicine, as well as his Doctor of Dental Surgery (DDS) degree from the UCLA School of Dentistry, all while on the Dean's Honor List. He then went on to earn his Doctor of Medicine (MD) degree at the UCLA School of Medicine and completed his residency in Oral & Maxillofacial Surgery at the UCLA School of Dentistry, along with a year of general surgery residency at the Ronald Reagan UCLA Medical Center.
Martin and his wife, Sharis, have been happily married since 2014 and recently welcomed their son, Leo, in April of 2017. In his spare time, Dr. Mardirosian enjoys working with computers, snowboarding, cycling, cooking, and running with Teddy — the Mardirosian family's Golden Retriever.
Dr. Mardirosian is affiliated with the following professional organizations:
Fellow
Certifications
General Anesthesia Sedation Permit
Basic Life Support (BLS)
Advanced Cardiac Life Support (ACLS)
Pediatric Advanced Life Support (PALS)
Advanced Trauma Life Support (ATLS)
Activities & Community Service
May 2010-Present: Thousand Smiles Foundation – Maxillofacial Deformities
July 2013-Present: Bank of Hope Community Outreach
July 2010-Prsent: Academy of Osseointegration's Young Clinician's Committee
September 2007-Present: Armenian Graduate Student Association Mentorship Volunteer
September2007-Present: American Student Dental Association
September 2007-June 2011: Hispanic Dental Association
November 2007-June 2011: Class of 2011 Oral Surgical Track Coordinator
January 2005-March 2007: Pre-Dental Student Outreach Program
March 2007-March2007: Sigma Alpha Epsilon Fraternity, Committee Member
September 2004-March 2007: Armenian Students Association, Social & Publicity Committee
Awards & Honors
2010: Student Grant Award – American Academy of Implant Dentistry
2010: Best Oral Scientific Research Presentation – Academy of Osseointegration
2010: Dean's Honor List – UCLA